Article on impact of policy design on solar PV adoption published in Energy Policy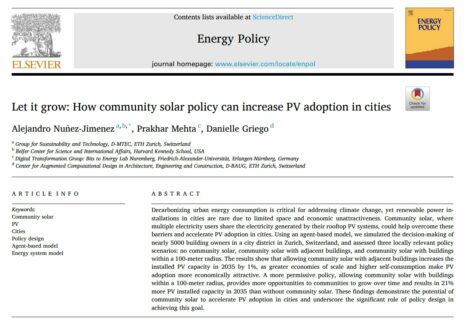 We congratulate Prakhar Mehta, PhD candidate at the group, and his co-authors Dr. Alejandro Nuñez-Jimenez and Dr. Danielle Griego at ETH Zurich for their publication in the highly reputed journal of Energy Policy.
The key objective of the research was to evaluate how energy policy design can impact the adoption of PV systems. The research simulated the adoption of solar PV systems, both individually and in communities by operationalising the Theory of Planned Behaviour, through a novel agent-based model relying on high-resolution energy data modelled on the Alt-Wiedikon district of Zurich.
They found that solar PV adoption is 20% greater when policy allows community formation and energy sharing within a larger radius. When the policy design allowed households greater freedom in choosing their fellow community members, it had cascading effects – the communities performed better technically as well as economically, thereby speeding up adoption, and looking at peers and neighbours adopting PV also increased the likelihood of a non-PV owner to adopt.
The full paper is openly available here: Full Paper
For a short but comprehensive summary of the study, see the Press Release and Twitter Thread by study lead Dr. Alejandro Nuñez-Jimenez.